CFS Carpets & Carpet Tiles by N&S Flooring Bristol Limited:
CFS Carpets have built a reputation for supplying good quality commercial grade products at affordable prices, with extensive stocks of carpets and carpet tiles throughout their UK depots.
This makes CFS carpets a good choice for fast track flooring projects where materials are required at short notice, CFS products are made with high quality fibres and are stain resistant and durable, with products suitable for use with castor chairs and computers, as some of their products are rated for Anti static use as well,
CFS Carpet tiles are ideal for use in office environments or for student accommodation or other business use. So using carpet tiles offers a low waste solution with good acoustic properties.
If you are interested in the environmental performance of your flooring products then CFS also offer products made with responsibly sourced or recycled raw materials.
CFS Broadloom Carpets are ideal for use in care homes, schools hospitals and universities, with secondary backing and impervious backing options there is a CFS Carpet for every application.
If you are looking for further acoustic performance CFS carpets can often be installed in conjunction with a suitable commercial grade underlay such as Cloud 9 Contract
N&S Flooring Bristol Limited offer expert installation of CFS products and FREE samples FREE no obligation site measures, and the best prices guaranteed!
CFS Office Carpet Tiles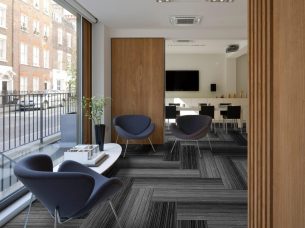 CFS City Walk Stripe Carpet Tiles
CFS Precision Carpet Tiles